For your vintage jukebox or listening pleasure: Our "specials" are tunes which are prepared and "cut ready" for your own record.  Each will be cut to order on high-quality black ten inch 78rpm vinyl records. This records can be played with micro groove and standard groove cartridges – but not with mechanical reproducers or steel needles. Perfect for vintage jukebox systems with updated pickups. Records also available as seven inch 45rpm (mono-) vinyl.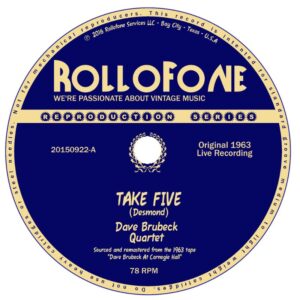 Dave Brubeck Quartet – Take Five (Live) : This famous tune has been transferred and remastered from the Carnegie Hall jazz album by the Dave Brubeck Quartet. It was recorded at the famed Carnegie Hall in New York City on Friday, February 22, 1963. The live-version of this song is about 7 1/2 minutes, so we used both sides.
OUT OF STOCK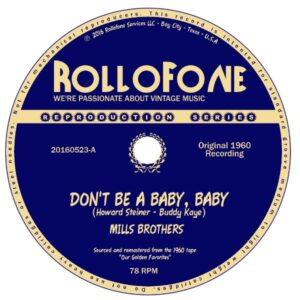 Mills Brothers – Don't Be A Baby, Baby. The Mills Brothers were an African-American jazz and pop vocal quartet of the 20th century who made more than 2,000 recordings that combined sold more than 50 million copies, and garnered at least three dozen gold records. This 1946 tune was picked up by a number of bands, among those the Benny Goodman Orchestra, but nobody could make it sound as sweet as the Mills Brothers.
OUT OF STOCK