Once in a while we'd like to cast a special light on artists, musical pieces or recordings that we worked on or that caught our attention. Those may be lesser known artists or recordings or performances – or simply something we think you might like. Please enjoy.
---
FRANCIS BAY AND HIS ORCHESTRA
Traveling around the world wasn't easy back in the days. Europeans still liked the "big band style" even after it became somewhat old-fashioned in the US. But the bands themselves rarely made it to continental Europe.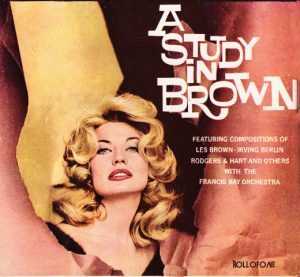 Frans Bayezt (1914 – 2005) made a name of himself by playing all the well known tunes from those famous American big bands. His "Francis Bay Orchestra" stood among the best of the time – not only in Europe.
Some of you may have even listened to his interpretation of the big band hits because a number of his performances were published in the U.S. as well.
The Francis Bay orchestra always performed close and true to the originals which opens us a window into big band sound in Stereo.  Some of his recordings, taped in the late 50s, are of remarkable quality. We have been fortunate to be able to add quite a few to our archive.
"I've Got My Love to Keep Me Warm" is a popular song written in 1937 by Irving Berlin. It was introduced in the musical film On the Avenue (1937) by Dick Powell and Alice Faye. Les Brown's instrumental version, arranged by Skip Martin and recorded in 1946 as Columbia #38324, became a million-seller and Billboard top ten song in 1949.
Here's Francis Bay and his Orchestra