Lovingly remastered from the original master metal parts and endorsed by the Glenn Miller family: Rollofone brings Glenn Miller's music back to where it belongs: to jukeboxes and record players.
Alton Glenn Miller (March 1, 1904 – December 15, 1944) has without a doubt been among the most famous musicians in American history. Tunes like "In The Mood", "Over The Rainbow", "Tuxedo Junction" or "Imagination" topped the charts back in the day and are still known to almost every music enthusiast today. Countless releases are available on 33 1/3 or 45 rpm vinyl, on CD or as
a digital download. However, his music was originally recorded for 78rpm shellac and, for the first time in almost half a century, we're bringing the sound back to 78rpm vinyl.

In order to produce the most authentic experience possible we went to great lengths to get access to the original metal master discs.  As copying to tape would have introduced slight modifications to the sound not available at the time of the original recording, we opted to transfer and convert the sound into digital DSD format – which is not comparable to the digital formats you might know (like mp3 or CD).  DSD digital audio can not be edited.  It keeps the authenticity of the original audio in a perfect way and allows us to convert back to analog and to master the sound with vintage analog equipment.
It took more than a year to re-publish the Glenn Miller Sound on 78rpm records. It took dedicated work from a number of people to edit and re-master the sound, to cut the masters in the most authentic way, get 10″ record presses out of storage and finally to press those unique records.
This set will never be produced again. Get yours while we still have a few available.

The following songs are included:

1) Over The Rainbow
2) American Patrol
3) Yours is My Heart Alone


4) Moonlight Serenade
5) Tuxedo Junction
6) Pennsylvania 6-5000
7) Imagination
8) To You
9) Fools Rush In
10) In the Mood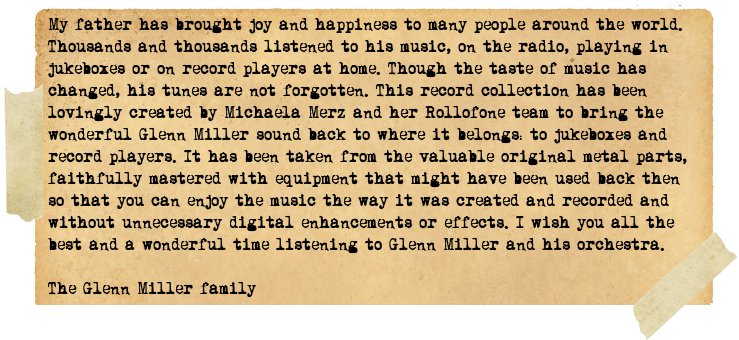 Thank you for your interest in this unique music collection. We're sure you will very much enjoy it.
In the famous words of Glenn Miller:
Good bye now.