PASSIONATE ABOUT MUSIC
Vintage and old style music without artificial enhancements.
ORIGINAL EQUIPMENT
We specialize in vintage music and old time favorites. We have analog and digital equipment and tools to convert sound and to cut records to achieve the perfect matching 'original' sound without artificial gimmicks.
MODERN AUDIO CHAIN
Cutting or restoring vintage sound does not mean bad quality – quite the opposite. We use technology made by BEHRINGER, KLIPSCH, SENNHEISER, TEAC, TASCAM, DBX and more to create great sound without fake effects
DIGITAL OR ANALOG?
You decide – but a careful touch can make a big difference. We can apply digital methods to edit and enhance the signal (click/pop removal ..) or convert from / to PCM (WAV), DSD or compressed formats like MP3 or FLAC.
WHAT WE DO
We specialize in working with vintage music from the 1920's to the 1970's
OUR MUSICAL HERITAGE DESERVES OUR ATTENTION.
The finest musicians, artists, conductors, most of them long gone, left us with thousands of performances, songs, compositions and recordings.

Giants like Caruso, Rachmaninoff, Kreisler, Ellington, Armstrong and so many others gave us hours and hours of music - pure and raw - without technical gimmicks.

We honor their lives by remastering and reissuing important parts of their work on MONO 78rpm records - an unbelievable listening experience.

We also supply 78rpm collectors and jukebox-owners with freshly cut standard-groove 10" records containing the music of their choice.
Bringing old recordings back to life.

We cut plastic and lacquer records for our customers.

We re-issue great music from the past on 78rpm

This is why we do all of it.
FAQs
Frequently asked questions
Rollofone Blogs
Background Infos and News

We transfer and remaster a lot of tapes. Those tapes are all 50 years old or even older. They are degraded and need a lot of TLC. Unfortunately – the channels on the tapes degrade differently. Read more about The Thing With The Speakers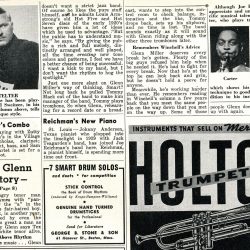 While working on the liner notes for our upcoming Glenn Miller release (we are awaiting the test pressings shortly) – we used approved quotes from the bandleader himself. One of the more famous quotes is Miller's complaint about people criticizing his "style" of music.  Read more about I Don't Want a Jazz Band
Previous
Next