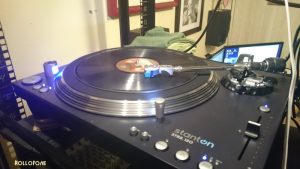 Our "vault" contains hundreds of vintage and historical original recordings on records, tapes and other media. We will remaster and publish some of the recordings over the next couple of months (copyright permitting).  All records are carefully transferred and remastered. Yes – you can buy the records. But please understand: The audio quality of the original will not be comparable to our remasters.
We have been asked a few times about the equipment we're using for our transfers.  We're using a Stanton STR8.150 with a SHURE M78S cartridge. This direct drive turntable allows pretty much all speeds down to 16rpm.
Enjoy listening to a few pieces of musical history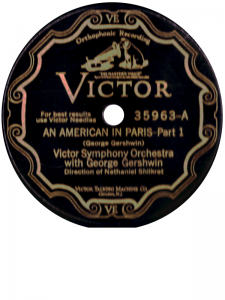 THIS is the only recording of "An American In Paris" featuring not only the (most likely) original car horns Gershwin brought back from Paris, but also with the composer himself, George Gershwin, attending and playing an instrument. Rumor has it, he went head to head with Nathaniel Shilkret, who was in charge for the RCA recording. Recorded in 1929.
Added September 2018
Click to listen  >>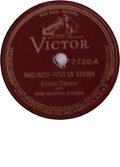 This record is somewhat special. Not that it would be especially rare. But it was recorded – or – should we say "produced" in 1932 – 11 years after Enrico Caruso died – and real dubbing technology, or even tape machines, were not available back then. For this record, they "electrically" recorded the orchestra and played the original record into the mix. We gave it a little brush-up – Recorded in 1932.
Added July 2018
Click to listen  >>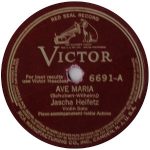 Jascha Heifetz, (1901 – 1987) was a Lithuanian born violinist. Many consider him to be the greatest violinist of all time. This is one of his early recordings from 1926 though he already was a sensation at this time.
Added February 2017
Click to listen  >>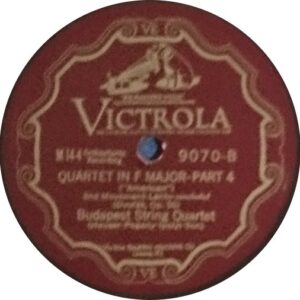 The Budapest String Quartet was formed in 1917 by four friends, all members of opera orchestras that had ceased playing owing to World War I. This is a 1927 recording of Dvořák's quartet in F major, composed in 1893. Approx. 22 minutes.

Added August 2016
Click to listen >>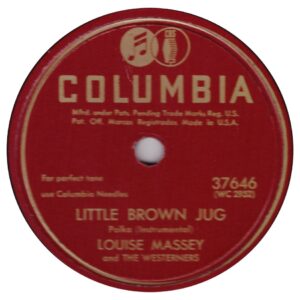 Another well known tune. In 1939, Glenn Miller recorded and broadcast his swing instrumental arrangement of the folk song "Little Brown Jug" with great success. Here's a polka version of the song,song written in 1869 by Joseph Winner
Added August 2016
Click to listen >>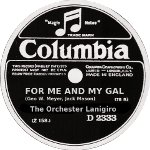 Based in Switzerland, the Lanigiro Band was the hottest European dance band even through the darkest times. Who said that only Americans could play Jazz and Swing?
Added July 2016
Click to listen >>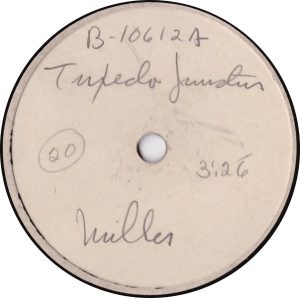 Glenn Miller's "Tuxedo Junction" – Test pressing. This record is especially important, because the metal masters are not very usable anymore. We know – we worked with them.
Added June 2016
Click to listen >>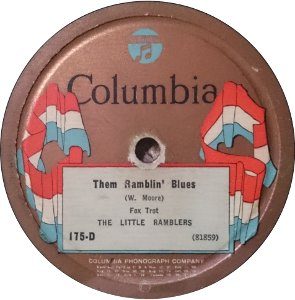 This is a nice "Arkansas Blues" recording from the early original "Little Ramblers"  –  recorded July 1924
Added April 2016
Click to listen >>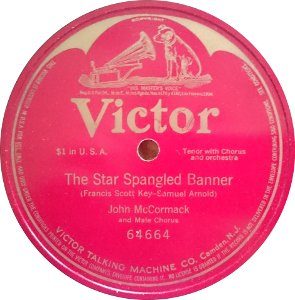 1917 – McCormack version of The Star-Spangled Banner: This is an early mechanical recording of what finally became the American National Anthem – 14 years later.
Added April 2016
Click to listen >>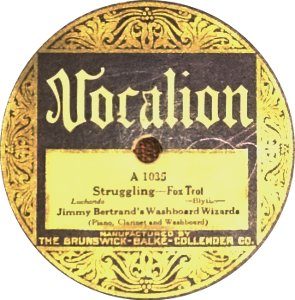 This rare "Jimmy Bertrand" 1926 Vocalion record is known to have fetched 400 Dollars or more on auctions. We have remastered our copy for you to enjoy.
Added April 2016
Click to listen >>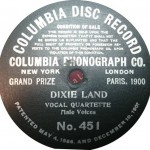 A male chorus sings "Dixieland" . This recording has been made around 1900 – at a time were the performers had to sing directly into the recording device without the benefit of electronic amplifiers.
Added Feb. 2016
Click to listen >>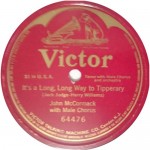 This is the song of World War I – and we're of course talking about "The Long Way To Tipperary" – as performed in 1914 by John Mccormack. Everybody knows this song – and here's the original.
Added Feb. 2016
Click to listen >>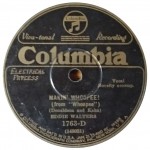 Here's another ear worm, nicely remastered from the original 1929 recording. For those who don't know the background of this song: It has been called a "dire warning", largely to men, about the "trap" of marriage.
Added March 2016
Click to listen >>