Sales of old fashioned vinyl records are surging, pressing plants are booked out. Vinyl is the new thing – even for younger folks. So – you might be tempted to try vinyl?
Agreed – analog sound syste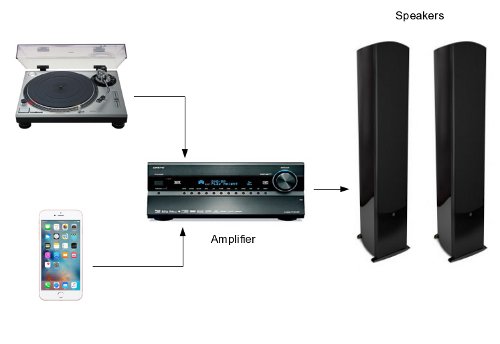 ms may look a bit overwhelming. But it's really not that complicated. You have to understand one thing: Music is not about noise – it's about quality. So don't even think about cheap speakers or head phones. You want to experience music the way it was meant to – so you need a reproducing system that is able to deliver.
This having said: A good music system doesn't have to be outrageously expensive. Yes – some people spend thousands and thousands of dollars to get as close to the perfect sound as possible. I'd like to explain the basics as follows: It's fairly easy to get started with a decent audio environment – but it can get extremely expensive to hunt for the final few percent on top of the quality curve.
About a thousand Dollars would get you into the green. You may need five or six thousand Dollars to get into the blue. So lets look at the curve: The red would be a bad sound system and MP3 files. Not only are MP3s highly compressed and modified to reduce their size, cheap speakers or head phones make the sound unbearable for a music lover.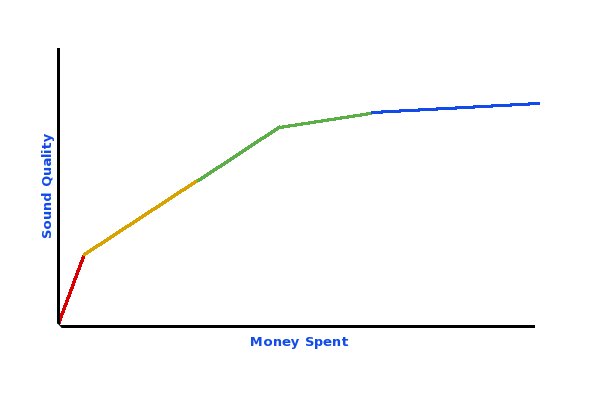 If you invest into a dedicated mp3 player (the computer sound card is not a good choice), a decent amplifier and good speakers, you may get high quality MP3s into the medium to upper yellow/orange area. You need high quality digital or analog sources fed into an adequate amplifier / speaker combination promote your sound into the green.
So – lets get started. What do you need?
Personally, I am quite fond of Klipsch speakers. They deliver a good sound and are not that expensive. Amplifiers are plentiful. Look for integrated amps from Sony, Yamaha or other brands. Just make sure they come with a PHONO input. If you have about 800 Dolllars, the Yamaha A-S801BL might be a good pick – it not only sounds beautifully, it has an inbuilt Digital Analog
Converter (DAC) that plugs right into your computer to circumvent the internal sound card. We have Sony (from a pawn store), the mentioned Yamaha, NAD and Mcintosh amps – all great systems though some are more expensive than others. If you buy an amplifier without DAC, don't be tempted to plug your computer's "line out" into your new sound system. Invest 30 bucks to get a Behringer UCA 202 – a very nice DAC that connects to your sound system and to your computer without the need of the internal sound card.
Now – let's talk analog.
If you happen to meet a group of record aficionados, you will get a number of opinions. It takes time to learn and understand the do's and dont's. This is why you want to buy a solid system that can be upgraded if needed.
There are two systems that you can't go wrong with:
The Technics SL-1200. Its a direct drive system that has been sold several thousand times and is still in use by professionals all over the world. Unfortunately, you can't buy it new. The audio-technica series of turntables is available brand new. The AT-LP1240 is a professional grade direct drive system that plays records with 33 1/3, 45 and 78rpm , it also has a USB port allowing you to hook it up to your computer. You may also need a pickup cartridge and stylus (needle). Don't invest into expensive styli or cartridges unless you know what you're doing. The more expensive and complex those systems are, the more complicated is it to install and adjust them correctly. A good starter cartridge/stylus is the Shure m97xe – though others may disagree. Analog fans rarely agree on just one opinion.
Should you buy expensive speaker or RCA cables? In my opinion: No. Use normal grade speaker cables rated for your system. RCA cables should have gold plated plugs – but even this is not necessarily a "must have" .  At one point, you should get a power cleaner that filters spikes and other undesirable "dirt" from your power connection. And a record cleaning machine would also be a nice addition to your set up.
A final word of advise: Don't buy over prized gear just because somebody said so. There are a lot of folks out there dismissing scientific evidence for personal experiences. Do not believe people who can't deliver solid evidence to explain why something is "better" . If you follow my advise, you have a good upper-medium range system that should bring you well into the green of my curve. It's easy to spend hundreds or even thousands of Dollars on voodoo equipment that will do absolutely nothing to the quality of your system.
Just enjoy the music.